WE PROVIDE THE PRACTICE, YOU PROVIDE THE THEORY –
TAKE PART IN THE DUAL STUDY PROGRAM WITH US
Challenging, diverse, and with excellent career prospects: Streck Transport's dual study program is an excellent way to begin your academic career. You want to maximize your potential in a practical setting and immediately apply your university-based theoretical knowledge in the workplace? Then studying and working all in one is exactly what you need. And we provide the tools to get you started.
APPLY NOW AS A STUDENT FOR A COURSE OF STUDY WITH A FUTURE!
Every year, Streck Transport provides dual students with the ideal entry-level opportunity for a career in a growing industry. The theoretical part of the training is held at the Baden-Wuerttemberg Cooperative State University in Lörrach, while the practical part is held in our company's various departments – so you get the best of both worlds and learn everything you need to know to be ready for a job with a future in an exciting and international environment.
CAREERS AT STRECK TRANSPORT
Übernahme erwünscht
Wir gestalten die Ausbildung bei Streck Transport gemeinsam mit unseren Auszubildenden offensichtlich richtig gut, denn wir heimsen in Deutschland und der Schweiz immer wieder zahlreiche Preise ein. Und nach der Ausbildung? Da würden wir Dich gerne übernehmen! Denn die besten Fachkräfte sind die, die wir selbst ausgebildet haben. Bewirb Dich doch einfach, Du darfst viel von uns erwarten.
THE BENEFITS OF STRECK TRANSPORT –
EXTENSIVE SPECIAL SERVICES FOR ALL EMPLOYEES
Corporate social counseling
Staff discounts
Capital-forming benefits
Complimentary hot and cold drinks
Health and sports
Company parties
Company pension plan
Anniversary bonuses
We promote and support volunteer activities of our employees
THE BEST WAY FOR YOUR APPLICATION TO GET THROUGH TO US
Your application
You can find all job postings in our applicant portal. Simply upload your documents using the online form. You can find an overview of all training courses and additional information in our training brochure. If you have any further questions, please contact our training department contact person.

Your application has been received
Promised! We will review your application as soon as possible, usually within two weeks, and provide you with feedback.
Getting to know each other in person
If your application has convinced us, we will invite you to a personal interview. You can now learn more about the training, get a feel for our company, and have your questions answered by our training team.



The feedback
You will find out whether or not the training position was successful shortly after the personal interview. We wish you good luck!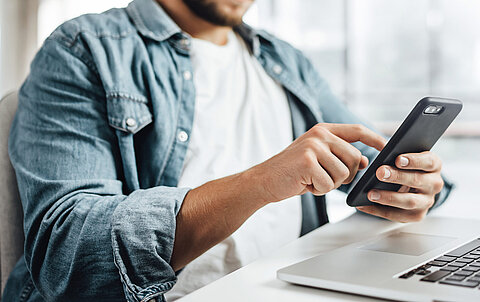 Contact us – your contact for questions
Antje Jahn
Freiburg
+497611305247